Spa software, also known as salon software or wellness software, is a type of business management software that is specifically designed for spas and other wellness businesses. It can help businesses with a variety of tasks.
Essential Features for Seamless Spa Operations
Spa software has become an indispensable tool for spa businesses of all sizes, providing a range of features to streamline operations, enhance customer service, and drive growth. Here are some essential features to look for in spa software to ensure seamless spa operations:
Online Booking and Appointment Scheduling: A robust online booking system allows clients to schedule appointments conveniently, 24/7, from anywhere. This eliminates the need for manual scheduling, reduces phone calls, and saves staff time.
Customer Management:
Comprehensive customer relationship management (CRM) features enable spas to track client information, preferences, and appointment history. This data can be used to personalize services, send targeted marketing campaigns, and foster long-lasting customer relationships.
Inventory Management:
Efficient inventory management helps spas maintain adequate stock levels, avoid stockouts, and prevent unnecessary expenses. Automated reordering notifications ensure that essential products are always available.
Point-of-Sale (POS) System:
A seamless POS system streamlines payment processing, sales tracking, and inventory management. It can also integrate with accounting software for simplified financial management.
Employee Management:
Effective employee management features help spas schedule staff, track hours, manage payroll, and provide performance feedback. This contributes to a more organized and productive workforce.
Marketing and Reporting:
Integrated marketing tools enable spas to create targeted email campaigns, manage social media presence, and track the effectiveness of marketing efforts. Comprehensive reporting provides insights into sales trends, customer behavior, and staff performance.
Mobile App:
A user-friendly mobile app allows clients to book appointments, manage profiles, access loyalty rewards, and receive notifications on their smartphones or tablets, enhancing convenience and engagement.
Customization and Integrations:
Spa software should be customizable to accommodate specific business needs and integrate with existing systems, such as accounting software or marketing platforms, for streamlined operations.
Cloud-based Access:
Cloud-based spa software provides anytime, anywhere access from any device, ensuring that staff and clients can access information and manage appointments remotely.
Data Security and Compliance:
Robust data security measures safeguard sensitive client information and ensure compliance with data privacy regulations.
Data-Driven Decisions for Spa Success
In the competitive spa industry, data-driven decision-making has emerged as a powerful tool for businesses to gain a competitive edge, enhance customer satisfaction, and drive growth. By leveraging data insights, spas can make informed decisions about staffing, marketing, pricing, and other aspects of their operations.
Gathering and Analyzing Data
The first step in data-driven decision-making is to gather relevant data from various sources, such as appointment schedules, sales records, customer feedback surveys, and website analytics. This data can be organized and analyzed using various tools and software to identify trends, patterns, and correlations.
Key Performance Indicators (KPIs)
KPIs are specific metrics that measure the effectiveness of a business's operations. For spas, common KPIs include:
Appointment booking rate: This measures the percentage of inquiries that convert into booked appointments.
Customer retention rate: This measures the percentage of customers who return for repeat visits.
Average revenue per customer: This measures the average amount of money spent per customer.
Employee productivity: This measures the efficiency of staff in providing services and generating revenue.
Client satisfaction ratings: This measures the level of satisfaction customers have with the spa's services and overall experience.
Using Data Insights to Drive Growth
Once KPIs have been identified, spas can use data insights to make informed decisions about various aspects of their business:
Staffing: Data can reveal peak periods and staffing needs, ensuring adequate coverage and reducing unnecessary labor costs.
Marketing: Data can identify target demographics, preferred communication channels, and effective marketing campaigns, optimizing marketing efforts and maximizing ROI.
Pricing: Data can guide pricing strategies based on customer demand, competitor pricing, and product profitability.
Inventory Management: Data can help predict demand, optimize inventory levels, and reduce stock outs or excessive inventory costs.
Service Mix: Data can reveal popular services, customer preferences, and emerging trends, allowing spas to tailor their service offerings to meet customer demand.
Customer Experience: Data from feedback surveys and online reviews can identify areas for improvement and enhance overall customer satisfaction.
Data-Driven Culture
Fostering a data-driven culture within the spa is crucial for its success. This involves encouraging employees to collect, analyze, and share data insights, empowering them to make informed decisions that contribute to the company's goals.
Continuous Monitoring and Improvement
Data-driven decision-making is an ongoing process that requires continuous monitoring and improvement. As the spa's business evolves and customer preferences change, data insights should be revisited and used to refine strategies and adapt to the changing landscape.
Boost Your Marketing with Spa Software
In the competitive spa industry, effective marketing is essential to attract new customers, retain existing ones, and drive growth. Spa software can play a crucial role in boosting marketing efforts by providing powerful tools and insights to enhance customer engagement and promote the spa's offerings. Here's how spa software can transform your spa's marketing strategy:
Targeted Email Campaigns:
Spa software allows you to segment your customer list based on demographics, preferences, and purchase history. This enables you to send targeted email campaigns that are more likely to resonate with your audience, increasing engagement and conversion rates.
Personalized Marketing Messages:
Leverage customer data to create personalized marketing messages that address individual needs and preferences. This personalized approach fosters stronger customer relationships and encourages repeat visits.
Social Media Management:
Integrate your spa's social media accounts with your spa software to streamline content creation, scheduling, and monitoring. Engage with followers, respond to comments, and track social media performance effectively.
Automated Marketing Campaigns:
Set up automated marketing campaigns that send personalized messages to customers based on specific triggers, such as birthdays, anniversaries, or past purchase dates. This automated approach keeps your spa top-of-mind and encourages repeat business.
Loyalty Programs:
Implement a loyalty program using spa software to reward repeat customers and encourage customer retention. Offer points for visits, purchases, or referrals, and provide incentives for redemption, such as discounts or exclusive offers.
Online Reviews and Reputation Management:
Monitor online reviews and respond promptly to both positive and negative feedback. Use spa software to collect customer reviews and testimonials to showcase your spa's reputation and attract new customers.
Special Promotions and Offers:
Utilize spa software(best spa businessess) to create and manage targeted promotions and offers. Segment your customer base and send personalized offers to entice new customers and encourage repeat visits.
Customer Feedback Surveys:
Gather valuable customer feedback through surveys integrated into your spa software. Analyze the feedback to identify areas for improvement and enhance customer satisfaction.
Track Marketing ROI:
Measure the effectiveness of your marketing campaigns using spa software's built-in reporting tools. Track metrics such as email open rates, click-through rates, website traffic, and conversion rates to refine your strategies and optimize marketing spend.
Integrate with Marketing Platforms:
Connect your spa software(small spa software) with popular marketing platforms like Mailchimp or Constant Contact to streamline email marketing campaigns, manage customer data, and track campaign performance across multiple channels.
By leveraging the marketing features of spa software, spas can create targeted campaigns, personalize messaging, track performance, and gain valuable insights into customer behavior. This data-driven approach enables spas to optimize their marketing efforts, attract new customers, and foster long-lasting customer relationships.
Cybersecurity: Protecting Your Spa's Data
In today's digital age, cybersecurity has become a critical concern for businesses of all sizes, including spas. With sensitive customer data being stored and processed electronically, spas are prime targets for cyberattacks. Implementing robust cybersecurity measures is essential to protect spa businesses from data breaches, financial losses, and reputational damage.
Strong Passwords and Multi-Factor Authentication (MFA):
Enforce strong password policies and implement MFA for all employee accounts. MFA requires additional verification beyond just a password, such as a code sent to a mobile device, making it more difficult for unauthorized access.
Data Encryption:
Encrypt sensitive data, both at rest and in transit, to protect it from unauthorized access or disclosure. This includes customer data, financial information, and any other sensitive information stored electronically.
Regular Software Updates:
Regularly update spa software, operating systems, and antivirus software(best salon spa software for businesses) to patch vulnerabilities and protect against known threats. Enable automatic updates whenever possible to ensure timely protection.
Employee Cybersecurity Training:
Educate employees about cybersecurity best practices, including password hygiene, phishing scams, and social engineering techniques. Encourage them to report any suspicious activity or potential threats immediately.
Access Controls:
Implement access controls to restrict access to sensitive data and systems based on employee roles and responsibilities. Limit access to only those who need it to perform their job duties.
Secure Wi-Fi Network:
Implement a secure Wi-Fi network with strong encryption and password protection to prevent unauthorized access to your network and sensitive data. Avoid using public Wi-Fi networks for business purposes.
Data Backup and Recovery:
Regularly back up your spa's data to a secure offsite location. This ensures that you have a copy of your data in case of a data breach or system failure.
Incident Response Plan:
Develop a cybersecurity incident response plan to outline procedures for identifying, responding to, and recovering from cybersecurity incidents. This plan should include roles, responsibilities, and communication protocols.
Cybersecurity Compliance:
Stay informed about and comply with applicable cybersecurity regulations and data privacy laws, such as the General Data Protection Regulation (GDPR) and the California Consumer Privacy Act (CCPA).
Regular Security Assessments:
Conduct regular security assessments to identify and address vulnerabilities in your spa's IT infrastructure and cybersecurity practices. Consider engaging a professional cybersecurity firm to perform these assessments.
Conclusion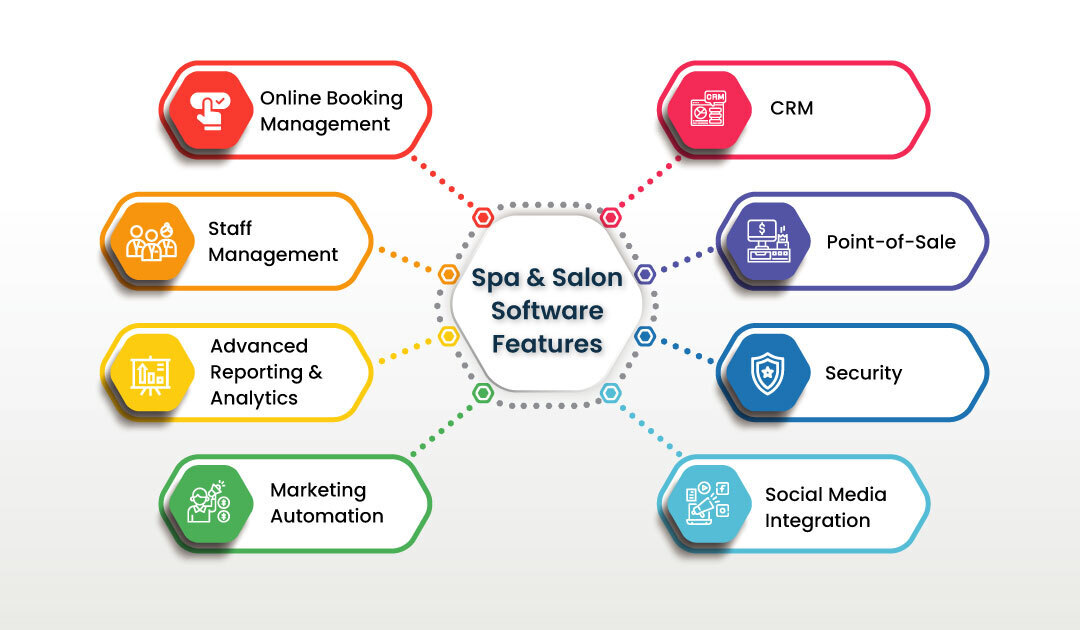 In conclusion, spa software has emerged as an indispensable tool for spa businesses of all sizes, providing a comprehensive suite of features to streamline operations, enhance customer satisfaction, and drive growth. By leveraging spa software, spas can:
Automate tasks, manage appointments, track inventory, and process payments efficiently. Personalize experiences, provide targeted marketing, and gather valuable feedback. Gain insights into sales trends, customer behavior, and staff performance. Create targeted campaigns, track performance, and optimize marketing spend. Implement robust cybersecurity measures to safeguard customer information and prevent breaches.
Spa software empowers spa businesses to navigate the competitive industry effectively, enhance their brand reputation, and achieve their long-term goals.